Star Wars: The Last Jedi (spoiler free!!)
Time for my first official review for Star Wars: The Last Jedi. Because I don't usually talk spoilers until the film has been out for at least a week, I'm going to try and keep this review as free of them as I possibly can.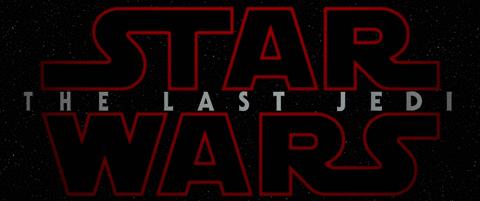 Before I get into Last Jedi, however, let's first talk about The Force Awakens. When TFA came out, I was totally floored, like so many others, by the profound realization that Star Wars was Star Wars again. No more senate meetings, no more midichlorians, no more Jar Jar Fucking Binks. We were back on desert planets blowing up star ships; the spirit of the original films was back. But, with everything these days, there was some backlash. Namely because TFA was nearly a beat for beat reskin of A New Hope. Which, in all fairness, it pretty much was. However, I'll say now what I said then in defense of this move. Because the prequels set the bar so damn low, these new films were going to have to earn our trust again. By revisiting the formula that made the originals so good, this communicates to the viewing audience that the crew behind the sequels are lovers of the franchise, and will treat it with the love and respect the series deserves.
That being said, I went into TLJ acutely aware to look out for plot points similar to Empire Strikes Back. I was willing to give the sequels a pass on TFA, but if they were just going to rehash and restamp the original trilogy to sell tickets, my free pass was about to end right there. There were obvious parallels between Empire and TLJ as far as where characters were and what they were doing – particularly with Rey. But these plot points are where the similarities end.
Without giving anything away, TLJ acts as both a love note to the franchise, and a send off of the original material into new territory. Where as TFA was practically bursting at the seems with nostalgia, TLJ takes those rose colored glasses and breaks them over its knee. The writing is smart, and addresses many gray areas of morality that faces certain romanticized elements of the Star Wars mythos. Several characters throughout the film openly address hypocrisies on all sides of the Resistance conflict. Over the fall semester, I had a brilliant professor tell us that current social anxieties reflect in our media, our movies especially. In our current political climate, it's easy to lose hope, especially when it feels like you're fighting a losing battle.
Speaking of battles, TLJ really felt like war had consequences. Rose, an engineer for the Resistance, is introduced sobbing over the death of her sister, a fighter pilot. It wasn't just a matter of good guys vs. bad guys. There was infighting everywhere, just like with any conflict. Different ideologies clash, and even those with the best of intentions might be wrong. Star Wars, up until now, had supported a very binary sense of right and wrong. What TLJ does is blur the lines between those definitions, creating a complex backdrop for an otherwise simple conflict.
TLJ is a perfect departure from the old while spring-boarding into the new. While the sequels aren't exactly a coming of age story, each player of the new generation must come to terms with their own shortcomings, and perhaps their own doubts of what they thought they knew. It is no longer just about "beating the big baddies." It's about understanding the faults in one's own beliefs, and carving out a new, better life than those before them left.
Also porgs. I want a million porgs.
Please reload